Go Blog, Go! ("Blog" has replaces "dog," for those of you unfamiliar with children books.) Anyway, I totally forgot about the Ultimate Blog Party. Whoops! For those of you visiting from there, Welcome! I need to visit the main page tonight to find out more info. Eric is going to be at the Men's Net Meeting (basically a party for all the guys to bring their friends who may be interested in the next Encounter and to hang out) and the boys will be asleep, so I can visit some new blogs. Yay! If you're interested in joining or you want to just read some new blogs click the button below.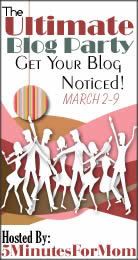 If this is your first time here, let me introduce myself...
I'm Morgan, a 24 year old mama from Northern California. I've been married to Papa (aka Eric) for almost 4 years. I have two boys: Judah, who was 2 in October, and Samuel, who is 10 months. I love Jesus. I call myself a Christian, but I don't consider myself to be like most Christians. I want to be radical and completely head over heels passionate for Jesus.
Judah, Me, Eric, & Samuel in November
I am in leadership in my church, which means I get to minister to women. I was a Psychology major in college because I wanted to be able to see broken people healed and whole. I dropped out of school when I got pregnant with Judah, but now I get to do what I've always dreamed of doing, but a million times more effectively. I went to a lot of counseling and it pretty much did nothing for me. I was a rejected, angry girl, but God has healed my heart and I am a completely different person. I have an amazing marriage and family and I love ministering to other families with my husband.
During the week I'm a stay-at-home mom, so my boys and I like to go to storytime at Barnes & Noble, playgroup, field trips with our playgroup, and to the park. All of that is with the attention of meeting other moms and telling them about Jesus. Fun things are fun, but I want everything I do to matter in eternity. Like I tell my cell group girls ALL THE TIME, life is but a vapor! It's here and then it's gone. I don't want my life to be wasted. To look back and say, "wow, that accomplished nothing." I want to use my time strategically and be intentional in all that I do.
Eric does is a painter and tilesetter, but we also own our own business called,
Announcing Yours
. In the last couple months we have just started to promote our business and are excited about it!!
Wow, that was meant to be an introduction to me, but turned into a mini-sermon. Anyway, thanks for visiting if it's your first time. And, if you're a regular reader, I LOVE YOU!!